Research areas
Safety analysis of advanced reactors
Prevention and mitigation strategies in nuclear facilities
Neutronic development of fast systems
Multiphase and multicomponent flows
Projects and cooperation
Cooperation with European and international partners for the development of the SIMMER-Codes
Safety analyses of ADS (e.g. MYRRHA), fast reactors (e.g. ESFR) and molten salt reactors (MSFR) for EU HORIZON 2020, IAEO and bilateral projects.
Simulation of experiments, especially for subcritical systems (e.g. KUCA) for IAEO projects
Safety of advanced fuels for ADS and fast reactors for EU HORIZON 2020, OECD/NEA and bilateral projects.
Methods
Multi-physics code systems for safety and dynamics of nuclear systems:
SIMMER-III and SIMMER-IV: Accident analysis systems for the simulation of accident scenarios in advanced reactors, including severe accidents.
KIN3D neutron kinetics model for ultrashort transients in subcritical systems, integrated in ERANOS: simulation of experiments for monitoring subcriticality in ADS.
Monte-Carlo Neutron transport (MCNP) for validation of deterministic methods.
KORIGEN and C4P-TRAIN for long-term phenomena, burn-up, radioactive decay, residual heat, radiotoxicity, preparation of multigroup neutron cross sections for SIMMER, COUPLE and other codes.
COUPLE: for analyses of operating conditions and design-basis accident scenarios in molten salt reactors.
Fuel Performance Codes: Fuel behavior under normal and accident conditions.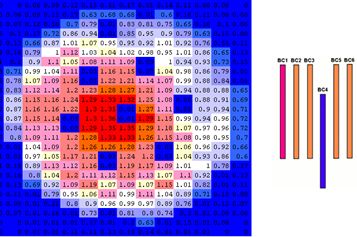 Fig.1. Simulation of End-of-Life-Experiments in Phenix (IAEO Project): Power distribution in the plane after control rod movement.